TechBlue Quality Management
The keys to successful business transformation are identifying opportunities, creating S.M.A.R.T. objectives, embracing innovation, visualizing a path, and staying focused on the task at hand.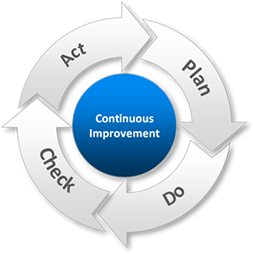 Our Quality Management approach supports the delivery of high-quality services and solutions by providing project staff and managers at all levels with appropriate visibility into, and feedback on, processes and associated work products throughout the lifecycle of the project.
The TechBlue Quality Assurance Program applies to all system development and maintenance programs, including work performed by subcontractors, and at a high level involves the following activities:
Objectively evaluating performed processes and work products against applicable process standards and procedures.
Identifying and documenting noncompliance issues.
Providing feedback to project staff and managers on the results of quality assurance activities.
Ensuring that noncompliance issues are addressed.
TechBlue remains dedicated to continually improve our service and solution delivery capabilities.